Happy International Day for Girls!
Inspired by a video by Geekerella (whose channel I highly recommend if you love comics as much as I do!) I decided to write out my favourite comics for girls! Again like she did I have to put a disclaimer saying that anyone can read these and overall you can read anything but these comics are typically geared towards females and have a strong female cast! I think any gender should read these!
I also understand that for some females it's not easy walking  into a comic book store and asking for suggestions. Some stores just plain up ignore their customers, female or male and some just find it so odd you're there. One I know even posted a photo of females in the store as an almost proof that we do in fact buy comics. It was so odd! Sometimes even other customers will make me feel uncomfortable! As someone who has to travel for any comic book store I generally tend to end up going to them right before a Lolita meet up so I think dressing differently has its ups and downs in a comic book store.
I will say that if you live in Ireland or ever end up travelling here one store that I will recommend and the place where I get my single issues is The Big Bang in Dundrum. They not only have a great selection of comics but are the nicest staff that I've ever met and spoken to. They make it so easy for me to email them about my pull list and I never feel like I can't ask something without being judged. Highly recommend them if you're ever unsure!
Also there are so many fantastic female lead comics so this might be long but also it may not cover everything! I will write another list in the future but check out my goodreads and instagram to see what comics I buy and read! Let me know in the comments below which you liked or if there are any I didn't include that you love let me know about them!
Now on to the comics!
I'm going to start off with superheroes and the big two: DC and Marvel!
One of my favourite superheroes is Batgirl! I can pretty much talk all day about how much I love her! She's badass and super smart. With a lot of comics one thing some people find hard about them is not knowing where to start so I'll include where I think you should throughout!
With Batgirl I highly recommend Gail Simone's run as your starting point. There are five volumes to her run and Gail is such a fantastic writer! She does Batgirl great justice in these volumes!
With the popularity of DC Superhero Girls among younger girls this would be a great one for them to read once they hit their teens. DC Superhero Girls is a great stepping stone for younger girls to get into comics. Though not going to lie I do collect the dolls!
This series does continue into the run done by Babs Tarr, Cameron Stewart and Brendan Fletcher and then into DC Rebirth. It's definitely one of the easier series to read as it never fully reboots back to the beginning but can be read as a full story.
Outside of Barbara Gordon, both other Batgirls (Cassandra Cain and Stephanie Brown) have comics that are being reprinted! I highly recommend picking up their trades if you want more Batgirl!
Black Canary is a character that some of you might be familiar with due to the tv show Arrow. This is a slightly different version but I think you'll like her too!
Dinah Lance in this version of the Black Canary is not only a badass when it comes to her fighting skills but she is a fantastic singer in a rock band! What's so great about this is they actually recorded songs and made 2 EP's for this band (which you can buy!) They are a mix of new songs written by the author and covers too!
She also makes an appearance in new issues of Batgirl and stars in the, best comic of DC Rebirth imo, Batgirl and the Birds of Prey!
Harley Quinn is another DC female character that a lot of people will know. Whether they know her from any of the animated series (she's also a feature character on DC Superhero Girls) or even from the latest superhero movie Suicide Squad, she's a staple female DC character! The new 52 is always a great stepping point for people to get into any character but I do highly recommend it for Harley. It's such a fun series that even continues into her DC Rebirth issues!
Now onto Marvel! Marvel comics has had quite a few female characters over the years but even more so recently. Here are a few that I've read and loved!
Ms Marvel has to be one of my favourite female Marvel superheroes! Kamala Khan's run being my absolute favourite. It's a great series and the storyline and art are great! Kamala gets her powers by accident and ends up becoming the new Ms Marvel. She's also a fangirl of superheroes, even writing Avengers fan fiction in her spare time. I adore her character! Not only is she funny and awkward but also just so relatable. It's how I imagine one of us, a fan, reacting to getting powers.
Ms Marvel caused a bit of a controversy when it was first released due to Kamala being Muslim. I initially picked it up because of that to be honest. I really loved the first volume and meeting her family. I feel like I learned a bit about the Muslim faith from reading this. It's a series that I would highly recommend! It's also written by a Muslim woman!
The Mighty Thor was a comic that I was super excited for and totally lived up to my expectations. I liked Thor as a character but to be honest I never read any of his comics. When I heard that this was coming out, a female Thor, I knew I had to give it a go. I fell in love! While I'm sure we all know who she is I won't spoil it in case you managed to avoid spoilers till now! She is a great character and I'm still hoping she'll make her movie appearance. Hey a girl can dream!
Spider Gwen was my very first single issue that I bought (I was gifted issue 35 of Batgirl by a wonderful friend) and was my first time ordering from The Big Bang in Dundrum! They were fantastic in helping me and I even ordered it for a friend of mine who wanted to give it a try too. I really loved this. It's set in an alternative universe to the Spider-Man we know. In this world it's not Peter Parker who is bitten by the spider but Gwen Stacey! In this version she becomes Spider Woman (titled as Spider Gwen as we have a Spider Woman in the regular universe!). Peter later becomes obsessed with wanting to help Gwen which leads him to become this universes version of the lizard and sadly he ends up dying. This isn't a spoiler but a back story! Gwen is then accused of killing him by the police and she as Spider Woman isn't seen in a positive light the way our Spider Man was. It's very good and I adore Gwen! Mary Jane also makes an appearance in band! Gwen made her first appearance in the regular Spider Man comics in the arc Spider Verse which was when Spider Men of different universes were being targeted and she teamed up with a couple of different versions to help. This was so popular it led to her having her own series! And yes one universe even had their very own Spider Pig!
Of course there are other comics out there other than superhero comics and other than DC/Marvel! Here are a few that I would recommend that are either both or are a different kind of superhero!
Lumberjanes is such a fun and great series. It has an all female main cast. It's set "Miss Qiunzilla Thiskwin Penniquiqul Thistle Crumpet's camp for hard-core lady-types" and features a cast of girls who go to this camp. Kinda like girl scouts! They are all such entertaining characters and this series also showcases some diversity. Jo, one of the main girls, is trans while two of the main girls are in a relationship with each other. It's a series that I really think a lot of people will enjoy and I came across it due to booktube!
Giant Days is one of my favourite series at the moment. It follows the lives of three University students in England, Susan, Esther and Daisy. It's such a relatable series. If you've been to University or are currently attending then you should see yourself or friends in this. I love the girls in this comic and how their friendship develops.
Paper Girls is a comic set in the 1980's and centres around a group of young girls who are paper girls. It's a time when paper boys are more common and it mentions their struggle to get the job they have and to be taken seriously. There is also a bit of a sci-fi element to this series with time travel too!
Misfit City is centred on a group of young girls who live in Cannon Cove, the place that only becomes known because they filmed The Gloomies there. However that's the only thing that seems exciting about their town until they find an old pirates map and this starts off a fun adventure story!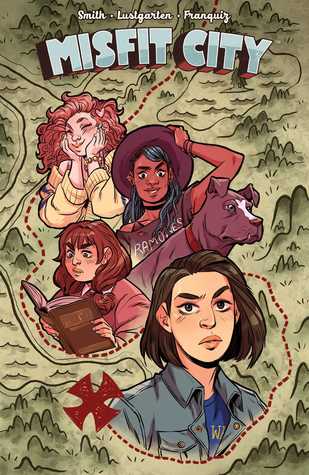 Motor Crush is an original comic by the trio that did Batgirl of Burnside: Babs Tarr, Brendan Fletcher and Cameron Stewart. I was super excited when I heard that they would be working on something together again and I was blown away by this story. It's about a woman named Domino who is a famous Motocross rider. Not only is she a bad ass female character but she's also a POC and a lesbian! It's a fantastic series so far with great representation.
Jem and the Holograms is a great cartoon but also now a fantastic comic! The art is fab and again this is another comic with great representation of not only LGBT characters but also people of different sizes! It was interesting to see someone who looked like me in a comic book. If you loved the tv show I think you'll also enjoy this. They also released a spin-off with The Misfits as main characters and it was really interesting to see their perspective for a change.
That's all for this post but it's not all that's out there. There are so many great comics that I love that feature some great female characters and I do plan on writing more of these posts in you're interested.
Let me know in the comments below what female characters you love in comics, be it a superhero or not!